If you want to catch just one pigeon and are targeting wood pigeon or collared doves use our folding single catch wood pigeon trap. This works on a treadle system...bait the trap using corn...pigeon walks in and steps on to treadle.......triggering the door to close......humane live catch pigeon trap....simple....effective. Can also be used to catch escaped chickens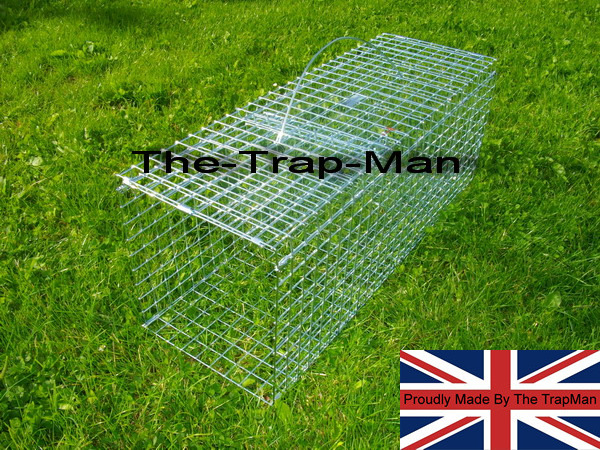 27" x 10" x 9"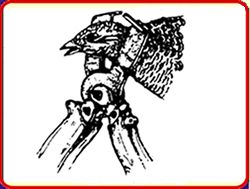 Setting the wood pigeon trap, grasp the top handle and give the trap a good shake, then pull on the rear panel until it stops at the upstand at the back of the cage, its a good idea to secure the end panel to the base of the cage,.............holding the door up against the roof , with your other hand pass the trigger rod through the marked hole in the cage top. so that the loop rests on the marked bar. Slide this loop forward under the very edge of the open door so that the door is suspended from the horizontal part of the setting bar...the trap is now set. Sensitivity can be adjusted by bending the end of the setting rod up to lessen the sensitivity or down to increase the sensitivity. Check that the free end of the wire mesh treadle plate is at least 20mm above the cage floor and at approx. 30°. Check the treadle does trip the door when pressed, bait using grain under the trap directly under the tradle, Once set the trap MUST be visited regularly and AT LEAST ONCE PER DAY, other non target animals or birds must be released unharmed.
For effective trapping conditions, the area where pigeon trap is going to be put should be regularly pre-baited for several days before the trap is sited. Corn or dried bread should be used for bait. After the wood pigeons become familiar with the feeding spot, place pigeon trap over the feed. Bait the pigeon trap with a trail of grain on the outside of the trap and leading into the entrance door. Make sure you bait the inside the pigeon trap under the treadle so the pigeons can find it. Place a bamboo cane through the side of the trap and push the door open to the roof of the trap, pass the cane under the door to support it in the open position, leave the trap baited regularly for a few days until the pigeons get accustomed to feeding inside the trap, when you are ready to trap the pigeons remove the cane to and set the trap as above.You should trap a pigeon within 12 hours of doing this, repeat the whole process again to catch the remaining pigeons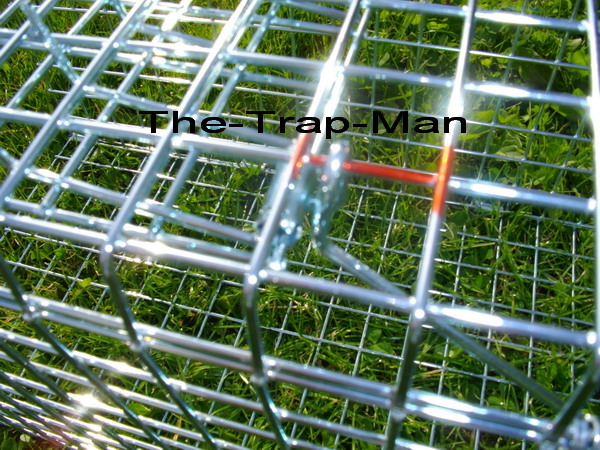 wood pigeon trap setting bar position, note the secondary lock prongs are through the top of the trap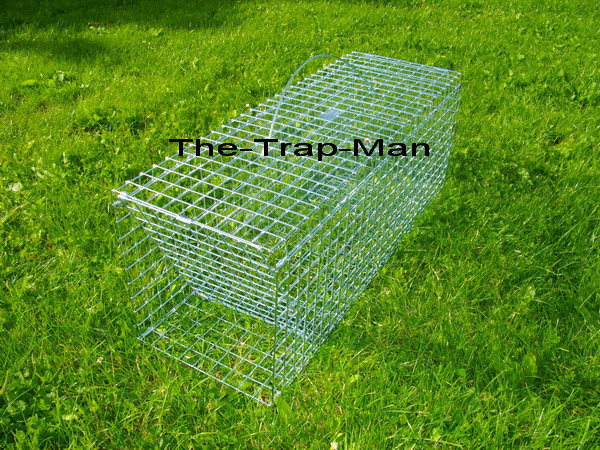 wood pigeon trap in the closed "tripped" position, should show captured wood pigeon but we didn't have one available to catch!
For the ovoidance of doubt the picture below is of a wood pigeon. the largest & most common pigeon, it is mainly grey with a white patch on the back of its neck & white wing patches which are visible whilst flying over your patio
<